U-Tron, an Engineering Company, LED Lights, LED Panels, Solar Lights
Article Index
Page 1 of 2
LED Helios-D Light Bulb
Part Number: 6852-P03-WQ5E27S or 6852-P03-CR4E27S
LED Retrofits for conventional Light Bulbs with E27, B22 or GU10 fittings
U-Tron's Helios-D LED light bulbs uses high power Cree LEDs to bring energy savings and a healthy light to your home and office. They can be easily retrofitted to virtually any Dimmer that uses E27, Bayonet or GU10 lamp holders.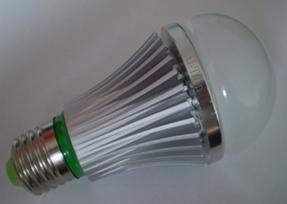 Helios Dimmable
By clicking the photo you can dowload the datasheet
Technical Specifications:
| | | |
| --- | --- | --- |
| Model Name | Helios Dimmable Cool White | Helios Dimmable Warm White |
| Model Number | A-6852-P03-CR4E27S | A-6852-P03-WQ5E27S |
| Number of LEDs (*) | 3 | 3 |
| LED Type (*) | Cree XPG R4 | Cree XPG Q5 |
| Power Consumption | 3.7Watts | 3.7Watts |
| Color Temperature | >5500k | 2500-3100K |
| Color Rendering Index | 85 | 77 |
| Power factor | 0.96 | 0.96 |
| Efficacy  (lm/w) | 105 | 86 |
| Dimmer Standard | TRIAC | TRIAC |
| Retrofit CFL | 20 Watt | 13 Watt |
| Retrofit Incandescent | 60 Watt | 40 Watt |
| Available Sockets | E27, B22, GU10 | E27, B22, GU10 |
| Total Flux (Clear Cover) | 390 lm | 321 lm |
| Lights Dimensions | (D) 59.00mm x (H) 122.50mm | (D) 59.00mm x (H) 122.50mm |
| Warranty | 3 Years | 3 Years |
| Net Weight | 125 Grams | 125 Grams |
* Other color configuration available upon request
U-Tron LED Helios D (Dimmable) with High Performance, TRIAC Dimmable LED Driver
Helios-D light bulbs utilize the 6800-NSC-3409 Industry-leading TRIAC dimmable offline LED driver solution. This is perfect for any application where an LED driver must interface to a standard TRIAC wall dimmer.
6800-NSC-3409 TRIAC dimmable LED driver delivers a wide, uniform dimming range free of flicker, best-in-class dimming performance, and high efficiency all while maintaining ENERGY STARpower factor requirements in our Helios-D light bulbs. You can plug in to any existing E27 holder and start using your TRIAC dimmer with out any worry. These dimmers are very common in USA and Europe and many hotels around the world are also using them. Full range dimming capability, going from full light to nearly imperceptible light in a continuous range without being extinguished, and maintains a constant current to the 3 LEDs in the Helios-D light bulb driven in series off of a standard line voltage.
Summary
If you are seeking a bulb for an area where frequent or constant illumination with dimming is required and that will last for extended periods without replacement, then an LED Helios-D bulb is the right choice. We have found that the majority of LEDs available today have a lifespan of 50,000 or more hours compared to 10,000 hours for a CFL bulb (which are not dimmable) or 1,500 hours for an incandescent bulb. We offer a variety of LED Helios-D bulbs in different sizes, designs, and output brightness suitable for numerous applications throughout your home, business or office. An LED bulb features a very direct field of light and is greatest use when light needs to be directed towards a particular object or task. Since LED lamps do not radiate light in 360 degrees, as incandescent or CFL bulbs do, light is not wasted in areas where illumination is not required. Whether you need lights to safely display products, artwork or signs; or if you need to have a nightlight/ hallway light on throughout the night, LED Helios-D bulbs use less energy: saving you money and helping to protect the environment.
Features
Let's face it; the incandescent bulb is the dinosaur of lighting technology. Now we are able to offer a direct replacement for your current incandescent, fluorescent, or CFL bulbs with these energy-saving LED Retrofit Bulbs. LEDs are the way of the future and provide cost-effective illumination while eliminating glass, fragile filaments, and harmful mercury. LED Helios bulbs use on average a fifth of the power and have a life span of up to 50,000 hours, the equivalent of up to 50 incandescent bulbs through out its life-span. Replace your incandescent bulb with any retrofit LED Helios series bulb from U-Tron in order to provide a smooth, uniform light distribution in high-traffic areas of your home and office, where lights are frequently left on for long periods. And just think, for years to come you will never have to worry about replacing the bulb! We offer a variety of sizes and styles to meet a wide variety of applications in your home or office.
Which LED Light bulb matches your application?
| | | |
| --- | --- | --- |
| LED Bulb | Equivalent To* | Typical Applications that fits any standard E27 sockets |
| 3.8 watt 90 LPW Cool White | 40 Watt | Decorative fixtures, Corridors and Bathrooms |
| 3.8 watt 100 LPW Cool White | 50 Watt | Decorative fixtures, Reading and Table lamps |
| 3.8 watt 110 LPW Cool White | 60 Watt | Decorative fixtures. Localized illumination |
| 3.8 watt 130 LPW Cool White | 75 Watt | General illumination. Home and Office, |
| 3.8 watt 150 LPW Cool White | 80 Watt | General illumination. Home and Office, |
*Standard incandescent light bulb required to produce equivalent illumination.
LED bulbs do not contain mercury or harmful gases and comply with the Restriction of Hazardous Substances (RoHS) directive which requires the reduction of hazardous substances. Unlike standard incandescent bulbs which contain highly toxic gases, or fluorescent bulbs which contain mercury, LED bulbs are made of recyclable materials and can be disposed of without harm to the environment.
LED Helios-D Light Bulb is for Home and Office where you have a TRIAC dimmer.