For Immediate Release
August 1, 2012 Beijing-based U-Tron Electronics announced it Lucas Street Lights has received China GB7000 (CQC) approval.
According to Mr. Raja Magasweran, the Managing Director at U-Tron, "The UL equivalent of the Chinese standard, GB 7000 is now a compulsory for LED Street Lights sold in China. U-Tron always produced the Lucas Series Street Lights to meet or exceed the existing UL, CSA, CCC and GB7000 standards, but it was not until now a compulsory requirement when installing LED lights in China" However, he further explained "We have to wait and see how this requirements will be implemented. But we are ready, we send our lights and got them approved by the GB7000 Lab."
The industry estimated nearly three millions LED Street lights are now installed but China never strictly implemented any standards for the lights. Starting with Guangdong province introduction of the Provincial LED Standards last year, a new set of National Level rules and regulations are getting drafted and introduced to the LED industry.
This approval will help Lucas Street Lights to win more future government orders and will make the export quality inspections and approvals a lot easier.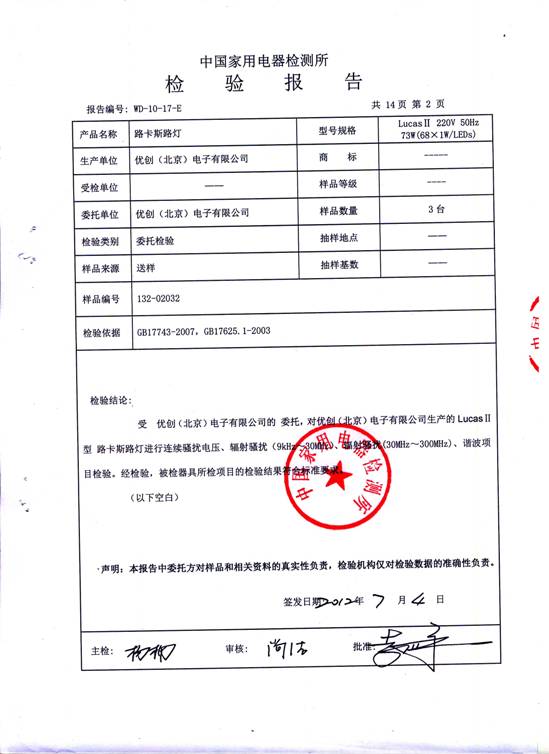 About U-Tron: U-Tron (Beijing) Electronics Co. Ltd., was established in 1992 as a WOFE in Beijing, China. The company was 100% funded by investments from an American Company, China Business Associates. The main purpose was to bring U.S. developed technology products to China for manufacturing and localization. U-Tron has an 1,800 square meter factory employing 50 + people in the Beijing Development Area (BDA) of Yi Zhuang district and has a collaboration operation with Jile Group (a State Owned Enterprise) for contract manufacturing in Mapo, Beijing with facilities exceed 20,000 square meters.